Hi all,
One of the questions that most people struggle with, when looking at Image Intensifier based NV gear ( the green stuff ) is what "Generations" mean. So I'll write up a basic description of the basics and on generations.
Basics: How most Night Vision gear works.
Night Vision equipment comes in one of two forms. An Image Intensifier, or a Thermal Imager. Image intensifiers make use of available light and amplify it. Thermal imagers measure the very low levels of energy our bodies emit ( heat ) and show this as an image.
Most night vision equipment is intensifier-based, and that uses what's known as an image tube to convert the image.
The front of an image intensifier is a lens that focuses a picture, much like a camera does, except it focuses the image onto the image tube photocathode instead of film. This converts the photons ( light ) into electrons ( electricity ). It then uses an electrostatic field to accelerate these electrons across a vacuum and onto a phosphor screen. In this respect, it's just like an older-style CRT television, except the image comes from the photocathode, not from an electronic system.
At this point, you could just view the image directly, and it would look like a TV screen the size of your thumbnail. So some viewing optics ( ocular ) magnifies it. In the most simple form, an ocular is a magnifying glass, so that's about it.
Usually, both the Objective ( front end ) and Ocular ( rear end ) can be focussed, to provide a sharp image, whatever you're looking at.
What else is there?

Digital night vision is one of the newer forms of NV equipment around at the moment. It's basically something like your phone-camera with an Infra-Red light permanently attached and usually turned on.
A digital image compared to a Gen1 image: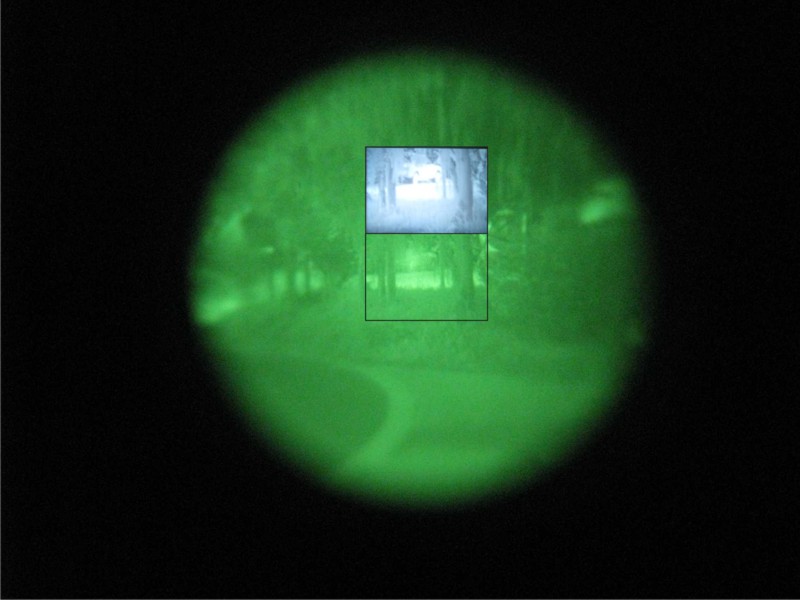 The best commercial digital NV equipment is at roughly Gen1 performance levels. It suffers from poor resolution and narrow Field Of Vision ( how wide an angle you can see ) but it's generally pretty good compared to most Gen1 equipment.
Generations:
Generation 0/1
These are not officially generations, but are commonly used to describe early technology. Generation 0 has very little amplification. You can't really see stuff with it that you can't see with your eyes, but it is more sensitive to infra-red energy than your eyes, so can be used with an infra-red torch to see things at night, without your eyes seeing the infra-red light.
This technology was used in WW2.
Generation 1 is a slight improvement over Gen0, in that there is slight amplification, or gain. This means an image viewed through a Gen1 viewer is about 50 to 100 times brighter than the image you can see with your eyes.
This is useful with a full moon, or with a very bright IR spotlight, and can see as far as the spotlight can see ( or futher on full-moon nights )
Generation1+ is supposed to have Fiber Plates to reduce distortion, but in truth, most manufacturers call their Gen1 a Gen1+ for marketting reasons. True Gen1+ tubes are usually ex-military tubes and are usually 40+ years old.
Most Gen1's have an effective range of between 50 and 100m.
Generation 2.
Gen1 vs Gen2.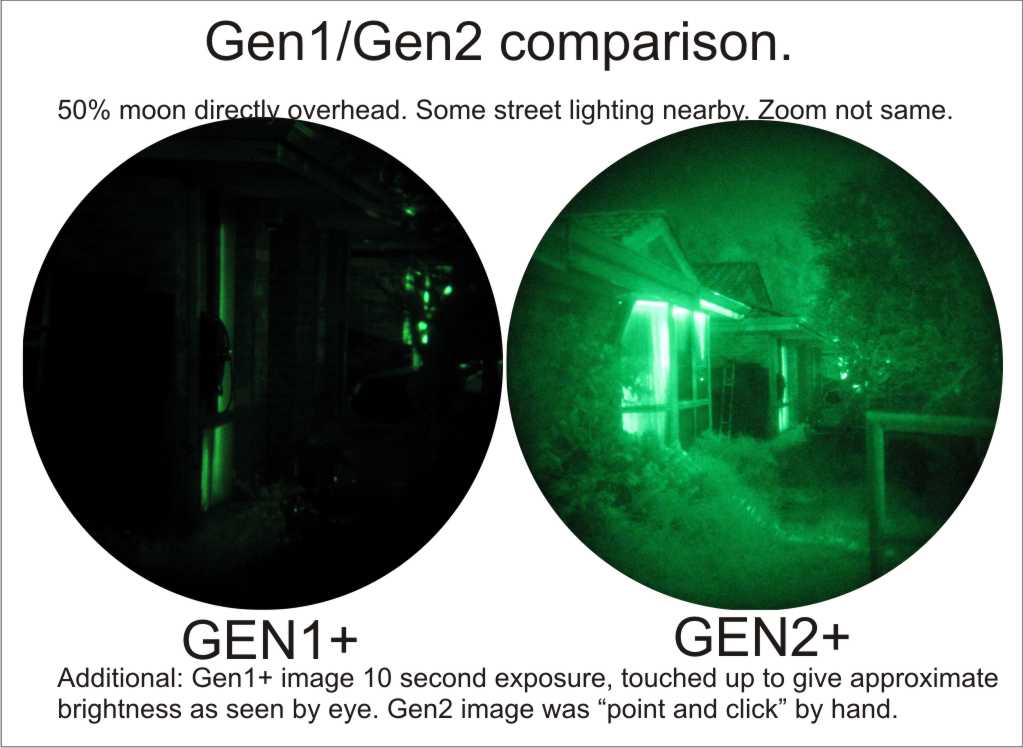 This is the first "official" generation - and includes an electronic amplifier in the tube called a Microchannel Plate or MCP. Gen2 has less distortion than Gen1, and a brighter image. System gain is around 1000x to 2000x. At 2000x gain, a Gen2 device is militarily useful.
These allow seeing at night under starlight conditions, but usally only provide slighly better vision than unaided eyes.
They do however work extremely well under all moonlight conditions and with extra IR - and can have ranges exceeding 500m with a good IR torch.
Gen2+ - Same as Gen2, but more sensitive to IR torches than Gen2. Also known as "extended red"
Generation 3.
Gen2 compared to Gen3. Gen2 is still useable, but a lot of detail is lost.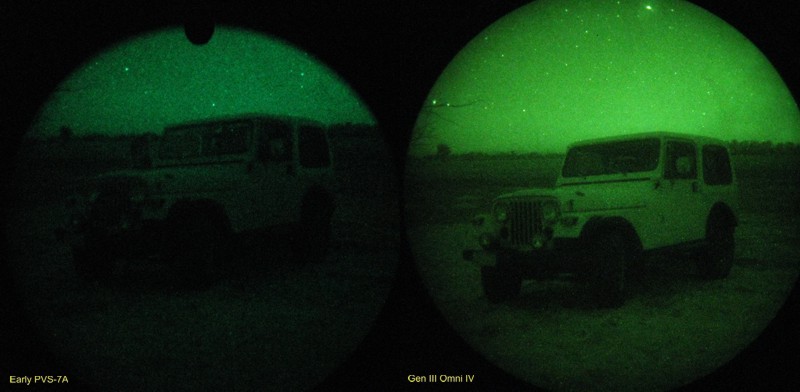 This is much harder to get in Australia - especially if you get US made Gen3, as you'll need to arrange an end-use certificate and can't resell without permission from the US government.
Generation 3 has an image that is similar to a very bright full moon, even under overcast starlight. It provides excellent resolution and clarity and allows good visibility at night under most conditions.
Generation 4.
Doesn't exist. Officially doesn't exist. Often used to describe Gen3 Filmless systems. They perform about the same as Gen3.
Is it really that simple?
Not really. Gen2 can reach up to Gen3 performance levels, but Gen1 pretty much sucks and has limited value due to it's very low gain. Also, very high end Gen2 ( Super Second Generation ) can match Gen3 performance levels. But generally, that's about it.
Feel free to add questions to the bottom of the thread.
David.