Well i loaded up some more round's today at 37.2 grn of 2208. With the intention of going to the range to confirm my load at 200 in a number of group's. Before settling on it. But after getting on the blower, i found no one was going up today. So i had the day off and bugger all to do ( Did a little work around the place ) Then decided to see if the rabbit's were out. .
So i went to one of my spot's and not much was going on for about 1 hr.I missed the first rabbit ( Shot fell just low ) Below the rabbit's chin and hung around for 20 min, to see if they would come back. No would be the answer there. So i packed up and when to the next warren. I sat there for about 20 min. Then this bloke came out for a bit of a sunning. I readied myself and got my Bushnell Fusion 1600 10x bino's out and ranged him. He was at 478 yard's, at 2 degree's incline, from my FFP. So i punched it into my BC ( Isnipe app ) and came up with 6.75 MOA from my 200 yard zero. I had a 4 mph wind call from left to right ( South East to North West , which i dialed 3/4 MOA. Temp was 8.5*c pressure 11.9 kpa, the Humidity was 69.9%. The bullet of choice was the 130 grn VLD Target ( as that's what i got ) With all the wheel's set in motion i just waited for the right moment to touch off the shot.
The time came and by then i was well relaxed and ready to touch off the shot, Bang......THUD......Seeing the rabbit doing a front flip off the log, while under recoil and a big chunk splintered wood, being ripped off a limb that was behind the rabbit. I stayed on target, to see two little leg's dancing about in the air. Followed by a Big Grin from ear to ear by myself of my little accomplishment
I know it's not extreme long range but it was hard enough in my book's for me ( The Sightron S3 has thick retical ) I think i'll get another PST in 24x as i quite like there retical, nice and thin. Good for what i was doing this arvo anyway. ( Fund's are the big factor here, Just gotta bide my time ) But i can do with what i got for now
OK now for some Pic's. Sorry no vid, this time round guy's.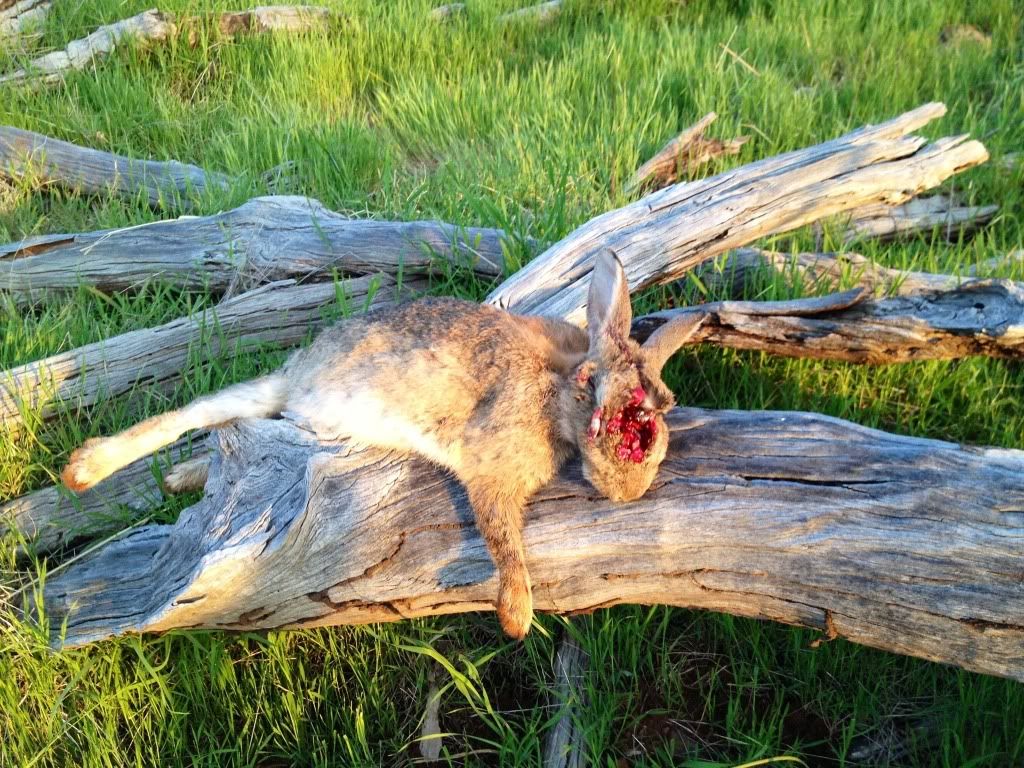 Who say's using anything bigger then .22 cal on rabbit's ruin's meat :lol: , You just gotta hit em right
Wait for the right time to strike