Gday,
Just got back from this arvo after giving the rabbits another hiding. We only set up at the one spot today and it proved pretty successful. We had a good field of view ranging from hillsides onto flats with distances 500 yards+......... Wind conditions not as bad as last week with the strongest gusts to about 15 knots. There was plenty of time to shoot in between the breeze.
My mate and I ended up with 24 for the afternoon, ranging from 100-340yds........ Yes I beat my PB from last week by 7 yards
, actually I scored 6 rabbits over 300yds this shoot so i'm pretty happy.
Best part about it was when my mate and I were gathering the rabbits the ones shot at the warrens 340yds away (3 of) they were all half grown. 1 head shot and 2 body shots.
Shot quite a few between 200-300 yards and 6 or so under 200yds.
Sorry only have a couple of pics we left the cameras at home this time. Quite a bit of Myxo getting around too so the numbers will drop back over summer, but the does were all milky or full of kittens.
Pet load
39gr SBK
28gr 2206h
CCI BR4
1.935" COAL
Cheers........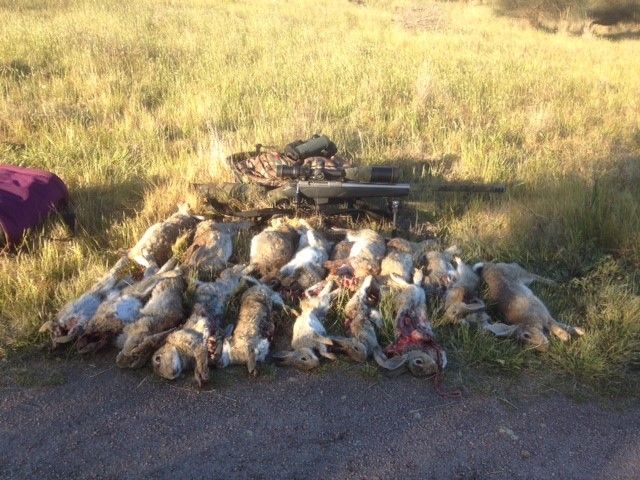 Sorry cant really see the rifle, I wrapped the barrel so it wouldn't glare..... And left a few bunnies out there that were in pieces